Probably the review I treasure the most. My little 1988 publication, 'Hanging in the Balance', was the biggest writing risk I had taken, exposing myself to possible ridicule, scathing criticism or, perhaps the worst, a complete lack of interest.
Ed Drummond, who died earlier this year, was – is – a legend in climbing circles, being described by the British Mountaineering Council as '… one of the greatest characters ever to grace the British climbing scene'. Among his many achievements, in 1968 he pioneered a classic route on the Anglesea sea cliffs and gave it the beautiful name of 'A Dream of White Horses'; in 1978 he was arrested after scaling Nelson's Column as an anti-apartheid protest; and later nearly froze to death spending 14 perilous days alone on Yosemite's huge face of El Capitan attempting the first solo ascent of North America Wall.
"… Who can say when or how hope springs? Today, like a ray of sunlight, a small book has landed on my desk … It may already be a collector's item … For there is a breath of humanity in this book … Having this book in my hands for half an hour was like sitting on the grass with my back against a tree. It made me sway…" Ed Drummond, Mountain, 1988.
Obtaining that review from Drummond in the then leading mag, 'Mountain', let alone such an eloquent and glowing one, was beyond any expectation I could possibly have dreamed of.
It gave me confidence in my writing and judgement and still does in moments of doubt. It is one of the spurs to my continuing writing and significantly extending 'Hanging' into 'While Giants Sleep'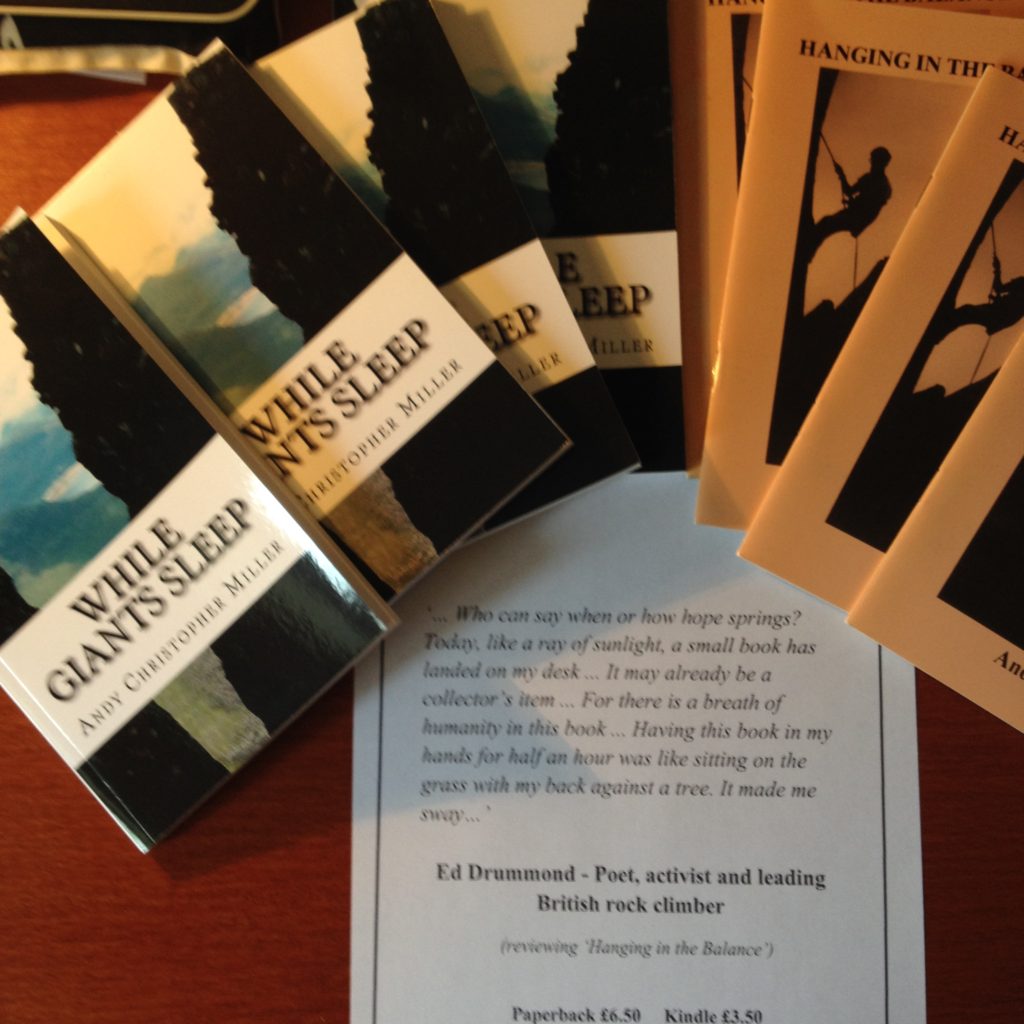 A couple of years after his review appeared in 'Mountain' I was out running along Frogatt Edge on an early autumn evening and saw a lone climber delicately and gracefully picking his way down the steepest section of the cliff.
I recognised him as Ed Drummond, introduced myself and had the chance to thank him for the magnificent boost his review had given me. And then we sat chatting on the boulders as the sunlight drained from Sunset Slab and the chill of evening came stepping in
What an amazing, larger than life character he was!